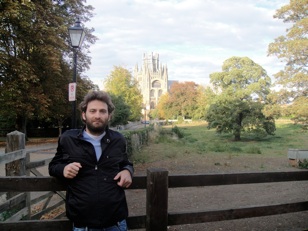 Nikolas Kantas
Introduction
Research Interests
My research focuses on developing and understanding numerical methods for challenging inference, optimisation and control problems. I am particularly interested in computational Statistics and statistical learning using simulation methods such as particle methods, Sequential Monte Carlo, Markov Chain Monte Carlo.

Background
I am currently a Senior Lecturer in
Statistics
at the
Dept. of Mathematics
, Imperial College London. Before I held various research positions in University College London (
Dept. of Statistical Science
), here at Imperial at the
Control and Power Group
(
Dept. of Electrical and Electronic Engineering
) as well as at the
Control Group
in
Cambridge University Engineering Dept
, where i did my undergraduate studies and PhD at the
Signal Processing Group
.
Other
Click here to find out about past Greek Stochastics Meetings. Last workshop took place on 23-26 August 2022 in Corfu and the topic was on Causal Learning, click here for details. Information on next year's meeting will be announced soon.
Here is a
link
for the LTCC course on Advanced Computational Methods in Statistics.
---
Workshops
Greek Stochastics
Together with the rest of the Greek Stochastics team we organise a workshop every year in Greece on a different topic in Statistics and Applied Probability.

Other
Other past meetings @Imperial:
2018: Workshop on Particle Methods and Data Assimilation, 8th-10th May 2018. Click
here
for details and links to some slides.
2015: Christmas Workshop on Sequential Monte Carlo and related methods, 21-23 December 2015. The details can be found
here
.
---