back to Damiano Brigo's professional page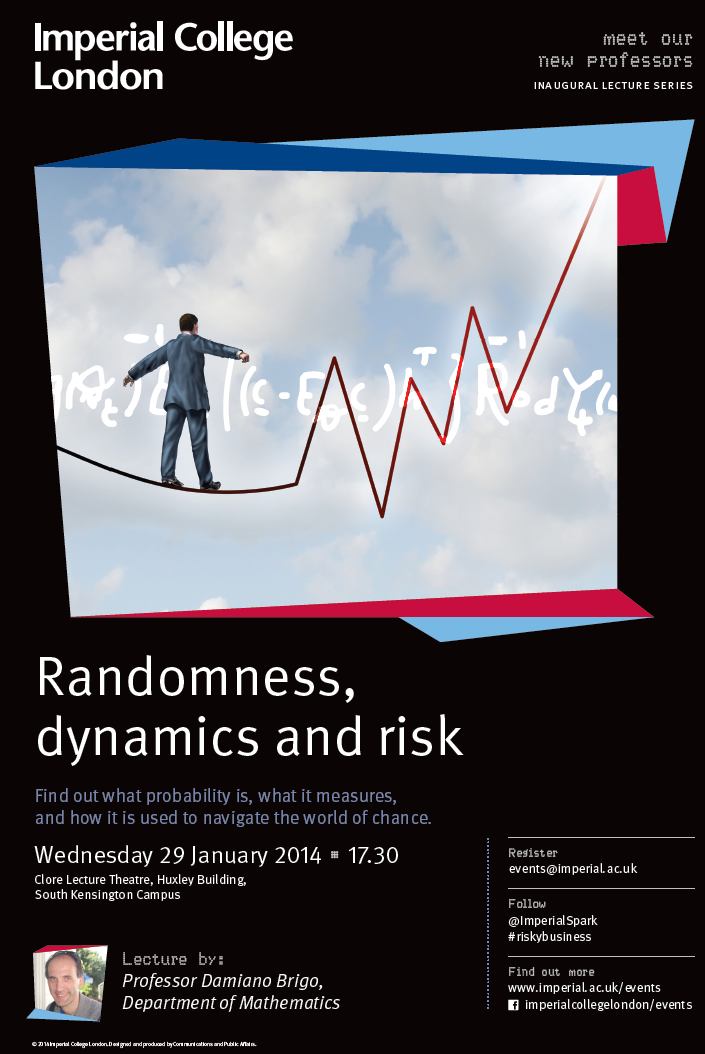 Randomness, Dynamics and Risk
From Quantum Theory and Chaos to Signal Processing and Finance
Inaugural Lecture at Imperial College London, 29 Jan 2014
This page concerns the inaugural lecture presented at Imperial College London on 14 Jan 2014, in front of a fully booked room with 200 participants. The following information is available:
Link to the official college page for the event, including an official announcement of the lecture.

Text used for the lecture official announcement:

The world is full of conundrums. Is the toss of a coin really a random event? How about tomorrow's value of the FTSE 100? Can a cat be dead and alive at the same time? Is there any free will? Why is long term weather forecasting so difficult? How is randomness different from chaos?

Professor Brigoís inaugural lecture navigates through the following issues and many more as he answers the age-old question: What is probability and what does it really measure?

Can we model randomness to manage risk and make decisions?
Did our models of randomness go wrong when the financial crisis started in 2007?
How have the models changed in the last 30 years?
Why did derivatives outstanding notionals amount to ten times the planetís GDP in 2011?
Why do elementary financial facts such as borrowing and lending interest rates being different generate nonlinear random dynamics and affect risk analysis on larger and larger scales?

Be reassured; no one will end up being alert and asleep at the same time, nor will attendees have finances ruined. Everyone will leave believing 'stochastics' and 'nonlinearities' to be perfectly respectable terms for the advancement of finance and economics!