back to Damiano Brigo's professional page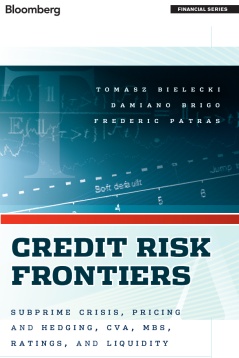 Credit Risk Frontiers:
Subprime Crisis, Pricing and Hedging,
CVA, MBS, Ratings, and Liquidity
(Wiley Finance/Bloomberg Book, 2011)

by Tomasz Bielecki, Damiano Brigo, Frederic Patras
The following information is available:
Book Description from the Back Cover
Praise for the book, where short reviews or comments from colleagues are reported.
Places on the web where the book can be ordered.

back to Damiano Brigo's professional page
Book Description from the Back Cover
The size and complexity of credit markets in general, and credit derivatives in particular,have posed a serious challenge for both marketpractitioners and quantitative modelers. While thedemands of trading and risk management in this rapidly growing market have spurred the development of quantitative methodologies for modeling, valuation, and management of credit risk—with a focus on credit derivatives—the recent financial crisis has proven that the challenges we face in this field have not been fully, and sometimes, properly addressed. Nobody understands this better than Tomasz Bielecki, Damiano Brigo, and Frédéric Patras. And now, with Credit Risk Frontiers, they've created an innovative volume—comprised of contributed articles from some of today's most respected academics and practitioners in this area—that deals with several urgent topics, such as the subprime crisis, the pricing and hedging of credit risk, collateralized loan obligations (CLO), ratings, and liquidity. Divided into six comprehensive parts, this reliable guide provides a coherent presentation of the recent advancements in the theory and practice of credit risk analysis and management, with an emphasis on issues that are relevant to the current state, and future, of credit markets. Page by page, Credit Risk Frontiers:

- Offers expert insights on the role of quantitative modeling during the recent credit crisis and the modeling lessons learned from this period
- Discusses general methods in multiname credit derivatives—namely derivatives products that depend on more than one credit entity at the same time
- Explores asset–backed securities (ABS), in which the analysis of cash flows represents specific difficulties that aren't present in the familiar synthetic collateralized debt obligation (CDO) framework
- Details the hybrid modeling of credit and equity, and examines the application domain of equity–to–credit modeling that runs from the joint pricing of credit and equity to relative value analysis
- Addresses issues associated with the valuation of credit valuation adjustments (CVA) and counterparty risk in the current environment
And much more

The information found here presents a renewed picture of the field, taking into account the lessons of the past to push forward with new models, ideas, and methods. Designed for those who are serious about understanding new ways of modeling and managing credit risk and derivatives, Credit Risk Frontiers will help you excel at this difficult endeavor.
---
Praise for the Book
"The role of credit derivatives in the current financial crisis has been widely discussed by regulators, investors, academics, and the general public. In this comprehensive book, the editors put together an impressive array of contributions written by the well–known experts in the field. It would be helpful to anyone who wants to understand the theoretical and practicalaspects of credit derivatives and their role in the broader financial context. I recommend it highly."
Professor Alexander Lipton, Co–head of the Global Quantitative Group, Bank of America Merrill Lynch and Visiting Professor, Imperial College
"This is a collection of papers dealing with credit risk modeling and credit derivatives with great clarity. The coverage is extensive, from expert opinions on the current credit crisis to cutting–edge research on the credit market, including the valuation of CVA and counterparty risk, which is one of the hottest issues in the current environment. The volume should be read not only by credit specialists but also academics and students in particular who wish to work in this area."
Professor Masaaki Kijima, Graduate School of Economics, Kyoto University
---
Places on the web where the book can be ordered
Amazon UK
Amazon USA
Wiley
---