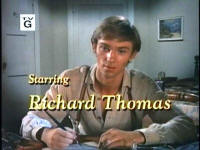 Dear Richard,
I am so sorry you have been reduced to being a mathematician. I just saw you perform in the US TV Show "Elementary" this week. Yes, your performance as the villain of the week was poor but still... Mathematicians literally play second fiddle to scientists, specifically physicists. How can you generate random numbers, equations... whatever looking for a spike or create a meaningful matrix without physics? Twenty years of work should produce a viable theorem;so, I suggest starting by explaining what actually caused the Big Bang. Isn't that 64,000 dollar question? What state does matter exist in to allow a sudden expansion?
Check in with you later (about 20 yrs.). I expect a colored rendering or wireframe of your theorem would make a great t -shirt!
You biggest fan!!!
PS Why move to to the UK?



Hello my dear Richard
I grew up watching the Waltons on ABC...I always wanted to have a friend like you. I sure miss the Waltons. I'm ** and been living in ********* for the past decade as a as a security guard. I always dreamed of meeting you, though London is much too far. Can you send an autographed photo?



Dear Richard Thomas! My Name is ****.I came from gernany!My Hobbys are painting pictures reading Books   and my Children. They are   ten,  nine , two and eight Months  old! And I  want to have a photo with jour Name from  jou!  Can jou send me a  picture on my E Mail  Adress please?   A Lot of best Wishes for  your Life!!        ****



first of all, i hope you and your family had a wonderful christmas, and the best to you in 2008. i spent the holiday with my two daughters and my son in law. i was pleasantly surprised when i opened one of my gifts, and it was the first season dvd of the waltons, my favourite t.v program, and then i was even more thrilled when i got the second season as well. i was watching "just cause" this morning, another of my favourites.
the best to you and yours.
d****



Dear Mr. Richard Thomas,
I'm a fan from Lebanon, my name is A***** S*****,
How are you ? i wish you're in good health with all your family.
i'm writing you this message to tell you how much i respect you, and i adore watching you acting, you're a actor who have the most pure feelings i've ever know, i saw your film " Annie's point ", you was a great dead and a great son at the same time, i can see that you're a person with a great heart, someone who give from all his heart to those who's around him.
I respect you, and i wish to see you one day in Lebanon.
Please, i'll be so happy if i receive a email from you.
May GOD protect you, and i wish you a life full of happiness and success



howdy, fan letter from your website

Hi. I just made the best move. I ordered your 70's tv show. Something funny that used to happen to me. My mother used to clean at one of those independent living centers. I got to know some of the older folks downstairs and visit with them while I waited. They started calling me John-Boy all the time. Nothing wrong with that. I am sure that was the nick-name to a-lot of different ones around the world. If you were called that that could be considered as an acompliment and that's how I took it and it meant people liked you. Now if I was called Fred Sanford or Archie Bunker that would be a different story. Thankyou for lending your acting tallents to the world. Much apreciated.



Hi Richard Thomas
I am Huge fan of John Boy on the 70's seris The Waltons Just wanted to remark on what a talented Actor, you are and to keep up with the excellent work I realize you are very busy and have a limited amount of time but i was hoping you could send me a personally signed autograph i would appreciate it greatly Thanks Best Of luck to you and God bless, I wish you much more success in the future Sincerely M**** P***** ***** ****** rd ********** ***** Ohio *****



dear richard thomas i am your number one fan i get up everyday at 7am to watch the waltons you are cute in the waltons oh my name is gloria i have 2 sisters and 2 brothers and 1brother in law and 1 sister in law thier names are amber andrea andrew timothy noah and teri my 15 years old your birhday is on my brother birthday june 13 he is 19 you are one year older then my dad i just got done watching the christmas box that is a sad movie i had really bad sickness when i was 9 months old i almost died but i thank god i made it i went to go to new york really bad i am going to be a doctor when i go up i think eric scott is cute in the waltons too my birthday is february 5 i got the waltons 1 complete season i went the waltons 2 complete season for christmas my email is gloriak1990 and my pass word is jonh-boy i homeschool please send me a picture of you when you are younge if you send me a picture of you i will send you a picture of me well i got to go now i have to watch a show called timepiece ps please email me back love your fan gloria



Germen Walton Fan

hallo herr thomas,

ich bin ein deutscher fan von ihnen und dessen was sie gemacht haben.
ich bin 33 jahre alt und freue mich immer wieder wenn ich sie in den waltons sehen darf leide wird die serie zur zeit nicht gesendet. ich würde mich riesig über ein autogramm von ihnen freuen oder wenn sie mögen auch eine kurze e mail. danke im vorraus.

mit freundlichen grüßen

andreas ******
ps: meine adresse
Germany
3**** L******
F******* *** **

danke ( thanks )



Dear Richard,

I hope you get my email to you. I was looking on the internet seeing what the actors from Stephen King's It were doing these days, and now I have found out some rather interesting facts on you. It's a real pleasure to actually email you.

I just wanted to say hello basically and wish you all the best in the future. Why not grow back the pony tail too? :)

All the best,
John




Dear Mr Thomas,

I came across this webpage somehow, and was just wondering if you read your emails and reply, you must get heaps! I have so much to say to you.

Yours faithfully.
Miss Jane *******.



Dear Richard,

I think you are the best actor that ever lived. Besides that, you remind me of my most favorite and beloved big brother! You two are precious people. I can tell by your acting that you are a special person.

Please, tell me how I can purchase your movie: Yes Virginia there is a Santa Claus.. My mother wants this movie asap.. She is going blind and wishes to watch this once more!

God bless you Sir,

Cindy ******
Gdog Gdog Gd



HELLO RICHARD THOMAS IM WRIGHTING TO LET YOU KNOW THAT YOU THAT YOUR A GOOD ACTOR PLEASE SEND ME A LETTER BACK AT NORMA****



Dear Richard Thomas,
Excuse my disturbing you!
My name is Eniko, I am a Hungarian girl and I study in England at the moment.
I just wanted to write to you to let you know how much I have enjoyed your performances.
I have been a big fan since I saw you in the "Living Proof". Some of my other favourites are: "Final Jeopardy", "It", "To save the children", "Timepiece", "Promised Land", "It`s a Miracle", "Wonder Boys" and "Just cause". You give your roles such great warmth and honesty - it is a pleasure to watch. I appreciate your achievements and accomplishments - you are a great role model for young people around the world.
I would be very delighted if you could send me an autographed photo please. I know you get a lot of fan mails so if you can give me a postal address then I will send you a stamped, self-addressed envelope.
Thank you very much!
I hope you will answer for me. Please forgive me for my English but it is my second language and I keep learning.
I wish you all the best,
A big fan,
Eniko



HI RICHARD, YOU ARE MY FAVORITE ACTOR,

HOW ARE YOU? I AM FINE. I THINK THAT YOU ARE A WONDERFUL ACTOR, AND I LOVE TO WATCH YOU ON: "ITS A MIRACLE". I ALSO LOVE SEEING YOU ON "THE WALTON'S". YOU ARE VERY HANDSOME.
I WILL LOVE TO HEAR FROM YOU.

CAN YOU PLEASE EMAIL ME A PICTURE OF YOURSELF?

HOPING TO HEAR FROM YOU. I WROTE YOU A LETTER, AND I MAILED IT TO YOU IN MAY.

SINCERELY, CECILIA. CISSY IS MY NICNAME.



Dear Richard:
I have seen miracles in my own life.Some of them have been major miracles.I spent 5 years living out of a suitcase with no income.I was all over Alberta and never stuck any where at any time.People I knew would show up where I was and would be going to the next place I was going.This continued on even into 1990 when I went to take some upgrading.There were to be some very difficult but healing events take place.It was strange I was praying and asking God to get me out of the situation I was in.It was not Long and I was to end up with a concushion and be told that I had to leave Upgrading due to missing to many days.That year I was to get an inventation to a Thanks Giving Dinner at an elderly couples I knew.It was there that I was to meet a man named Stephen who had also attended the John Paul II Catholic Bible School just as I had done.It was some monthes later that I was to call for a ride to a friends wedding only to be told that Stephen wanted to speak to me .I was thinking what does he want?My Friend Paul put him on the phone!To back up a bit I was looking at becomming a nun even at that time.I had no desire to go out with any one or had I ever dated anyone in the past.Just before the wedding Paul's truck died and we all went to the wedding in a little two seater truck.Paul brought an Air Mattress for us we got stuck under the Canope on the truck.We sat there talking.At the wedding of our friends we were to be told everywhere that we would make a great couple.Every where we were to hear this.By 1991 we were looking at getting married.We put the wedding off until November 9th 1991.I at one point looked back at some old Retreat Lists I had and was to make a very interesting discouvery as My husband and I had made a retreat weekend back in 1985 in Edmonton.My husband has boarder line C.P.I have never looked at his disability as a disability.I always have looked at his abilities!Our love has lasted through a very tough time back in 1992 when we took our first child to the Doctor with a broken leg.We really don't know what happened my husband was gentally lifting our son up and down on his leg and we took him to the hospital.My husband was to later be charged with Physical Abuse.I called a Lawyer friend of mine he referred us to his Co Worker Dianna.She took on the task of helping my husband because he was telling her the truth 100%.He was not lying at all! During this court case we were to see a true miracle.My husbands file was not to be found anywhere at the Bail Hearing,if the file had been there we would have lost the bail hearing.Six days later his file was found.When we went into the court room we were all quite surprised as my husband was released without any mention of any bail at all.The Security Guards were questioning wheather it was a bail hearing or not.My husband was not even released on his own words.People were praying for him everywhere.We are still together after 11 years.People were twisting the whole story!No one from the Social Workers,and Medical Pofessionals etc would even believe him.The Lawyer could see that he was like a clear open book and was telling only the truth.He had also misused a word due to the fact he thought that tentional was to not on purpose and unintentional ment on on purpose.Since then we have had four more children.Our oldest is now 11 and is A.D.D. Our second has a diffront learning style and gives me any attitude possiable.Our second son has every area of grade one in which he needs help.We are living in Low cost housing and have had 16 health and safty issues.We have 7 people living in a three bedroom duplex.Our house is not well adapted for the needs of my 9 year old daughter.I have no cupboards that lock to put the childrens clothes in so that they don't pull them all out on the floor leaving me to clean all of the clothes up and wash them again.I can wash my floors every hour and not suceed at having them clean.I have every behavior possiable from my 9 year old daughter.Last Christmas we locked our Christmas hamper in our room except for the perishables.In November & December there is four birthdays for our own children.Our house is to small for our 5 children and the two of us.We only have three bedrooms.My husband has been working at a grocery store for the past 5 years.He has had back problems for the past 1 1/2 years now and would love to not have to do the work he is doing because it often gives him back pain.I would love to start doing family history research for others.I have been doing my own Family Tree and we have a Claude Jodoin married to an Anne Thomas in 1666 in Montreal.Could you truely pray for us as we have a tough life and rarely get away for an hour by our selves.We can't afford a babysitter.I also pray that God will provide us a house of our own that we can adapt with lots of cupboards that can be locked so I don't have so much work to do.Thanks for your Prayers!
Rose



Hello Mr Thomas!

My name is Carina ********* and I live in Sweden. I have admired You ever since I saw You for the fist time on TV. I am a great fan of You and I love and adore You so much.

I am just watching You in The Walton show and I love it and I have seen all the movies and productions that You are acting in. I love the way that You act and how nice You look. And it is so hard to believe that You are over 50 years old. You haven't changed a bit since the 70's. I saw that in Oprah. Amazing. How do You do it.

I know that You must be very busy with Your work and so on, but if You please, could save some time for me and send me Your lovely photo with Your autograph on it, it would make my dreams come true.

My address is: Carina ******
******
******
SWEDEN

Please, don't forget me. I love You so much and hope that You get this mail and will give me what I really want most in my life. I have searched for Your address for so long.

Regards Carina.



Dear Mr. Richard Thomas:

Have you ever wondered if you were the only one in the world with a birth mark on the left side of your face. I have an identical one on the left side of my face. I use to tell people you were my brother when I was younger. I have always wanted to write or meet you and see if we have other things in common. I do hope you receive this email and do not think it is a joke. I am trying to fulfill a dream I have had for a long time and that is to contact you and get a response from you. I have always dreamed of doing a movie with you looking for your sister who was abducted when they were babies and the only thing that you always looked for was the same birth mark. I know it sounds silly, but I am now 47 years old and I guess I just wanted to see if you could really reach you after all these years. I hope to hear from you.

Sincerely,
Brenda



Hi Richard,
I'm so happy to see that things are going well for you. Seems familiar, are those the things I predicted for you? I've missed you at the faire… maybe it's because I haven't been able to do the faire. The reasons range from sad to sublime, and everything in between. None of which are important at this time. I am happily living near Palm Springs and loving it. Do you remember when we spoke at the faire regarding the book I am writing? I hoped you might let me include prints of your family in it, especially the triplets. I'm closing in on it now and wanted to be in contact. I am also working on an instructional DVD and online readings, and many other internet related projects. Since I am not so computer savvy, a very sweet couple I know are making this possible. You would love them. Richard, emails should be short and to the point, so….please be in touch…, email, phone, whatever works. I have waited long and enjoyed seeing your work, let's not lose touch.
Linda
Linda the Palmist,
RenFaire, Devore, Ca
Message ph---909-###-#### my unreliable cell# 909-###-####



Do you ever get to see the other actresses or actors from The Waltons like Kami Cotler? She is good too. Can you be a pen pal to someone? I heard you live in Madison, Wisc. Is that true? Email me back soon.
Thankyou very much.



Dear SIR Richard Thomas,
With regards and greetings
My name is Alireza Mesgarnia,I saw your film in TV,You are my beloved actor.
I also new year,HAPPY NEW YEAR
I do apologize for my delay.
Dear Richard,
I kiss your hands from far distance.
Like you,all the best
- Faithfully yours
Alireza



Hello are you the Richard Thomas who played John Boy Walton, a long shot i know but you never know, ive watched that series 3-4 times through, Im now a man 43 and still like it.



Dear Richard,
Hi My name is Gabe. I have been a fan of "The Walton's" for years since was little every day on the Family Channel ch. 63 at 7:00 pm. every day i used to watch it and i still do watch it on TV Land.. You were my faviort cast member on "The Walton's" cause it seem like you where there for every body and no matter what the problem was you were always there.. And i have been watching "It's a Mircle". I was wondering if i could have your autograph??? If so how much??? Please email me the information... Well i have to go..

God Bless for whatever you had done..
Gabe
Please email back..



Dear Mr. Thomas:
For about 20 years or so I have been off and on looking for the version of barefoot in the park which you starred with bess armstrong. This version was so much better than the original but I have been unable to find a copy anywhere. I keep telling my wife about it and she wants to see it also. I'm sure you must have a copy of your performances - is there any way I can obtain a copy - I'll even send you a video tape or donate to a charity of your choice. It was a great performance and I would very much like to see it again.

Sincerely,
Joseph



Hi! :) I just wanted to let you know that you're one of my FAVORITE actors. Also, I think you have a REALLY AMAZING smile, too!! :) By the way, I was just wandering (and I hope you don't think that this is a nosy question), are you a true blue Christian? :) I hope you don't mind that question. Anyway, I think that you're a REALLY AMAZING actor!! :) The only shows I've seen you in so far are: "THE WALTONS" & "IT'S A MIRACLE", but what I've seen from those two shows are REALLY AMAZING!! :) I JUST LOVE the way you act in that one show: "THE WALTONS" and I JUST LOVE the way you host the other one: "IT'S A MIRACLE"!! :)
IT's just REALLY COOL & AMAZING, too!! :)
Well, I gotta go!! :)
Your B/F/F/E,
Sarah
P.S. Please E-mail Me Back!! :)
P.P.S. Please keep me in your prayers, I'll keep you in mine, I promise!! :)



Richard,

I have been one of your faithful fans since my childhood. Do you reside in England right now??

Ken



Richard Thomas,
My name is Dennis Turner. I am writing to ask if you might know where I might find a copy of your movie, "Final Jeopardy". It is one of my favorites, as it is truely scary while also being so very possible. Any help you could provide would be most appreciated. Thank you in advance. Dennis



Hello. I was looking at your web sites and trying to find information regarding the movie you starred in where you adopted a little boy from Korea.

My husband and I watched this movie the weekend before we travelled to get our son from Korea back in 1999. We have since adopted a daughter from Korea and I would like to see this movie again, but I can't remember the name.

Your help is appreciated.
Thanks,

Theresa



dear richard thomas:we watch the waltons all the time.sometime soon we would like to visit waltons mountain,meet everyone.i am a great fan of yours.you would write on the waltons,well then i took up writting,been doing it for along time.i just started my first book.i am a tupperware consultant.mom is a retired outfitter.she is recovering from a heart attack last year in march,and is doing really well,were a team,have fun together.we had a wonderful christmas.hope you did to.i am fighting asthma,i take medication 4 times a day.we live here in (montana),6 1/2 miles above gardiner,up in a ghost mineing town,of (jardine).not many of us left here.its empty,quiet.we are right across from the cemetary,i call it(ghost cemetary.we would like to say hello to all on waltons mountain.happy new year.everyone email me.charlotte,independant tupperware consultant.



hello:thank you for getting back to me:how can i contact the original richard thomas?happy new year.charlotte,independant tupperware consultant,montana.



Hi Richard
My Name is Allan.
I grew up watching the Waltons on TV...I always wanted to have a friend Like you.
When you played JohnBoy on the waltons what Religion where you?I sure miss the Waltons. I live in Indianapolis,Indiana...I am 41 and never in my life met an actor.
I always dreamed of meeting one but,Still no luck....
I always wanted to meet you.
Will I hope to hear from you soon....
from Allan
email me for my address I hope you have a picture so I can have one.



We are looking for a copy of the version of 'Red Badge of Courage" you did in the 80's (?). We are unable to locate. It may have been a Made for TV movie. Do you know who that movie was made for?

Thanks for you help.

Laura



Hi! My name is Joy Kelley. I, like most people, watched "The Waltons" every week - and now I am living in Korea and AFN (American Forces Network) is showing re-runs of the show. I always loved watching it and still do today. I was really surprised to see that you don't act much anymore. I really think you should. You are such a great actor. I really loved you in "You'll Like My Mother" with Patty Duke! You were a great villain. :) I never forgot that movie. Anyway, when I saw your address, I just had to write you and tell you - you have given me many hours of pleasure watching you. Oh, and your triplets are beautiful! I just LOVE email! :)

Joy



I am one of your favorite fans but I need your help you did a Movie on Lifetime about a Man who was about to put to death on the electric chair He ask you to take care of his daughter. when he dies. I was tapeing this Movie when my tape ran out I did not get the ending of the this Movie. My Mother is not well she has M.S. and Cancer She is in a Wheelchair I really think she would enjoy this Movie very much. Would you please sent me the tape or could you ask lifetime to do this good Movie again.

Thank You,
Christine



STRICTLY CONFIDENTIAL.

FROM THE DESK OF BARRISTER JOHN WALTON
LLB. (HONS) MA. DIPL. LAW
REPLY ONLY THROUGH: jwalton00@yahoo.com
HELLO DEAR,

MY NAME IS BARRISTER JOHN WALTON, I AM A PRIVATE ATTORNEY AND I HAVE A CLIENT WHO IS INTERESTED IN INVESTING SOME GOOD MONEY WITH YOU.

MY CLIENT IS A VERY IMPORTANT AND PROMINENT PERSON WHO HAS MANDATED ME TO CONTACT YOU FOR A VERY IMPORTANT BUSINESS TRANSACTION.

MY CLIENT IS BY NAME MRS. MARYAM ABACHA AND SHE IS THE WIFE OF THE LATE MILITARY PRESIDENT OF MY COUNTRY. HER HUSBAND LATE GENERAL SANNI ABACHA MADE A LOT OFMONEY THROUGH OIL PROCEEDS DURING HIS TENURE IN OFFICE. INFACT, IT WAS DISCOVERED AFTER HIS DEATH THAT HE WAS WORTH WELL OVER $4.5 BILLION UNITED STATES DOLLARS AND SOME OF THIS MONEY WAS RETRIEVED BY THE PRESENT GOVERNMENT OF NIGERIA AFTER HE DIED WHILE SOME WAS RECOVERED FROM OFFICIALS THAT SERVED UNDER HIM DURING HIS REIGN AS MILITARY PRESIDENT OF THE FEDERAL REPUBLIC OF NIGERIA.

THE TRUTH OF THIS CASE IS THAT MY CLIENT DESPITE THE PROBLEM SHE IS GOING THROUGH NOW WITH THE PRESENT REGIME, SHE STILL HAS A LOT OF MONEY WHICH WAS SYPHONED TO EUROPE AND AMERICA BY HER HUSBAND THE LATE MILITARY PRESIDENT AND COMMANDER-IN-CHIEF OF THE ARMED FORCES OF THE FEDERAL REPUBLIC OF NIGERIA WHICH IS UNKNOWN TO THIS PRESENT GOVERNMENT OF NIGERIA.AND SHE INTENDS TO INVEST THIS FUNDS OUTSIDE OUR COUNTRY.

WHAT MY CLIENT NEEDS FROM YOU NOW IS FOR YOU TO CLAIM THESE FUNDS WHICH WAS CONCELED IN A TRUNK BOX AND DEPOSITED WITH THE DIPLOMATIC COURIERS IN LONDON BY PAYING FOR THE CUSTOMS CLEARANCE AND FREIGHT FOR THE IMMEDIATE DELIVERY OF THE CONSIGNMENT TO YOU IN YOUR COUNTRY ON HER BEHALF FOR THE POSSIBLE INVESTMENT OF THE FUNDS WITH YOUR EXPERTISE HENCE SHE AND ALL THE ENTIRE MEMBERS OF HER FAMILY WERE BANNED FROM TRAVELLING OUTSIDE THE COUNTRY.BUT MIND YOU, ALL THE MONEY IN HER POSSESSION CAN NOT LEAVE AT ONCE BECAUSE SHE NEEDS TO BUILD CONFIDENCE AND TRUST IN SOMEONE WHO WOULD NOT EXPOSE HER PLAN TO REMIT AND POSSIBLY INVEST WITH YOU.

SO SHE HAS AGREED THAT I SHOULD MAKE ARRANGEMENT WITH YOU BY PAYING FOR THE FREIGHT AND CUSTOM CLEARANCE FOR THE CLAIM OF THE TRUNK BOX FROM THE DIPLOMATIC COURIERS IN LONDON WHICH CONTAINS $25 MILLION UNITED STATES DOLLARS AND YOU ARE FREE TO NEGOTIATE YOUR MODE OF COMPENSATION EVEN AS SHE INTENDS TO INVEST THE MONEY IN YOUR COUNTRY.

PLEASE, DO NOT HESITATE TO INDICATE YOUR VIEW OF THIS REQUEST BY CONTACTING ME IMMEDIATELY YOU RECEIVE THIS MAIL, SO THAT THE NECESSARY ARRANGEMENTS FOR THE DELIVERY OF THE CONSIGNMENT TO YOU BY THE DIPLOMATIC COURIERS WILL BE MADE IMMEDIATELY.

DUE TO THE PRESENT SITUATION OF MY CLIENT, I WOULD BE HAPPY IF THIS REQUEST CAN BE KEPT SECRET. I WOULD ALSO LIKE TO NOTE THAT THERE IS NO RISK INVOLVED AS ALL NECESSARY ARRANGMENT TOWARDS THE SUCCESSFUL CLAIMING OF THE CONSIGNMENT HAVE BEEN CONCLUDED AND IT IS 100%RISK FREE.

I HOPE MY CLIENT WOULD BE HAPPY INVESTING WITH YOU. PLEASE KINDLY SEND DOWN YOUR REPLY STRICTLY TO THIS VERY E-MAIL ADDRESS.OR BETTER STILL YOU CAN CONVENIENTLY CALL ME FOR MORE BRIEFING WITH THE ABOVE TELEPHONE NUMBERS.

THANKS AND REMAIN BLESSED,

JOHN WALTON(ESQ)

NB:PLEASE I WOULD LIKE YOU TO ENCLOSE IN YOUR REPLY YOUR PRIVATE TELEPHONE,FAX AND CELLULAR NUMBERS FOR A SPEEDY AND EASY COMMUNICATION.