Dean Bodenham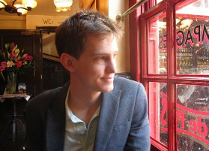 Accessibility statement for this website (opens in new tab)
I am currently a Lecturer in Statistics in the Department of Mathematics at Imperial College London.
Here is a link to my CV in PDF form.
---
Background
I did a PhD in Statistics at Imperial College London, supervised by Dr Niall Adams and Dr Nicholas Heard.

Before returning to Imperial, I was a postdoctoral researcher at ETH Zurich, Switzerland, and a postdoctoral researcher at RIKEN AIP, Japan.

---
Research
Mainly interested in change detection techniques for multivariate streaming data and efficient methods for offline nonparametric changepoint detection.
---
Contact details
Email: dean.bodenham@imperial.ac.uk

---
Last updated: 16 September 2020